We live in a divided society. With so many political, cultural, and religious beliefs lengthening the divides between people, there is a great need for a collaborative communication platform that unites in a way that politics and religion cannot. Trent Wagler of The Steel Wheels spoke of music in this way during their performance for the EMU Centennial Celebration on Saturday, Oct. 14. Wagler spoke of his desires to use the platform that music gives him and the rest of the band to speak their minds and spread their messages while still offering quality entertainment. The Steel Wheels were successful at both on Saturday.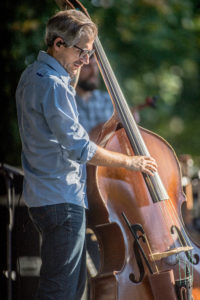 They began their set with two songs featuring a progressive-sounding clawhammer banjo style played by Wagler accompanied by drums, guitar, upright bass, and fiddle. They quickly set the atmosphere of the venue, clearly defining their blues-influenced roots music with a hint of traditional bluegrass and old time styles. The third song of the set, "Sing Me Like A Folk Song," featured slow and thoughtful instrumental conversations between Wagler's perfectly built Huss and Dalton guitar, Jay Lapp's slow, traditionally influenced mandolin, and Eric Brubaker's fiddle rising far above the music all pointing to Wagler's unique sounding voice, which was held up by a beautiful low harmony. All this was paired with lyrics expressing a life of simplicity, one that focuses on what is truly important.
About halfway through their set, Brubaker started off "Breaking Like The Sun" with a double-stop filled fiddle intro that sent a pulsing rhythm through the entire audience. This song, highly influenced by roots and bluegrass, was definitely more on the entertainment side of music, which is not necessarily a bad thing. The Steel Wheels had a wonderful balance to their set. From songs like "Breaking Like The Sun" and "Broken Mandolin" — which have a natural drive propelling them forwards — to slower, expressive songs like "Wild As We Came Here," the title track to their 2017 album and "Rescue Me, Virginia," described by the writer, Wagler, as being "as autobiographical as it gets," to songs that send powerful messages and tell stories to which nearly everyone can relate, like "Till No One Is Free." This was, in my opinion, the best song of their set. With lyrics and harmonies that pull at your mind and whisper in your ear and one of the most beautiful fiddle parts Brubaker has ever played, they sent the audience into complete silence, something incredibly hard to do, especially at a venue like the EMU Centennial with many other activities going on around the concert.
The blues-, old-time-, and bluegrass-influenced roots style of The Steel Wheels was a great addition to the Centennial festivities. Wagler, Lapp, Brubaker, and Brian Dickel, '98, on bass, along with a friend of the band on drums, were one of the most unique groups in the traditional and roots music genre that I have seen live. The musicianship of each individual member shone through at just the right time. No one was overpowering or not giving enough. The Steel Wheels are a band of solo musicians who know how to play together. While the inevitable downsides of any live performance were present, such as issues with balance and the effects of weather on tuning, they were made hardly noticeable by the amount of energy the band brought on stage with them. The intimacy of the concert was what captured me the most. They really know how to connect with an audience. They have found where their platform is in music and how it fits in to their calling as musicians, and they truly are using it to the best of their ability. Their musical ethic is something I think anyone, no matter their beliefs, can appreciate about The Steel Wheels.