Cross Country
The women's cross country team concluded their season with a great finish at the NCAA S/SE Regional Championships in Newport News, finishing ninth out of 34 teams. Senior Michaela Mast finished 16th overall with a time of 22:16.5 to round out the season.
Men's Basketball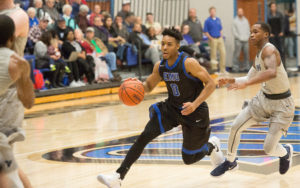 The men's basketball season started this week with a season opener against Mary Washington on Wednesday, Nov. 15. The Royals fell to the Eagles 85-86, with the game decided during over time. Senior RaShawn Latimer led the team with points, scoring 17 over the course of the game. Seniors Maleke Jones and Jerome Jones, and junior Sammy Thomas followed, each scoring 13 points. Their record is now 0-1.
The team's next games are at the Messiah Tip-Off Tournament in Grantham, Pa. Their first game there will be Friday, Nov. 17 against Delaware Valley.
Women's Basketball
The women's basketball season also started this week with a season opener against Lancaster Bible College on Wednesday, Nov. 15. They beat Lancaster 72-55. This puts the Royal's record 1-0 for the season overall. Sophomore Taylor Baltimore, sophomores Lexi Deffenbaugh, and junior Jess Washington led the team with 10 points each — a great start to the basketball season.
The team will also be hosting the EMU Tip-Off Invitational this weekend, Nov. 17-18 with games against Hilbert College and Penn State-Altoona.